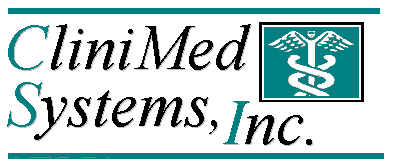 Is proud to present :
CliniMed® is a suite of Medical practice management software Products which include various level of Scheduling, Office Billing and EMR. Please call us so we may assist you in determining which of our products is best suited for your practice.
CliniMed Medical Software Products :

My Health Alert

™

by CliniMed

®
New Product
CliniMed Physician Companion ™ Award Winner 2004
CliniMed Office Suite ™ New Product for the small office
CliniMed Integrated Smart System ™
CliniMed Resource Scheduling ™

We appreciate your interest. For more information,
please call us at (315) 432-0384 .
© 2000 CliniMed Systems, Inc. All rights reserved.


CliniMed

®

is a registered

trademark

of CliniMed Systems, Incorporated


6700 Old Collamer Rd.
East Syracuse, N.Y. 13057
Email CliniMed